What Google Changed in 2014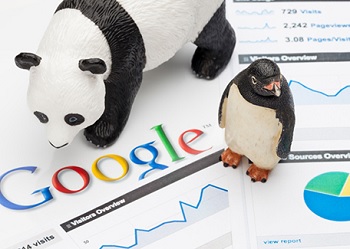 It has been a hectic year for SEO experts trying to keep up with the developments Google made in 2014. The search engine giant made several changes to the way it displays results in searches. There are noticeable changes which Google made such as the removal of authorship markup. Behind the scenes updates on Panda, Penguin and Pigeon were releases in that order. Here is a compilation of all changes which were made to wrap up the year.
Behind the Scenes
Google has a way of doing some things away from the public and you only realize it when you see the changes the make. In 2014 they didn't quit this character but instead brought updates in Panda, Penguin and Pigeon. These three algorithms usually define how search queries are handled and affect rankings in searches.
Panda 4.0
In May 19, 2014, Google released Panda 4.0 a major update which rocked the world of webmasters. This was not one of the many data refresh updates which are made each year on the Panda algorithm but one that had both algorithm update and also data refresh. The official effect which this update caused all English-language queries stood at 7.5%. This update sent some sites several points downwards in the ranking.
They did not stop there on Panda updates and in September a new minor release update was made named the Panda 4.1. This update brought in a new change in algorithm and had an impact of around 5% on queries.
Penguin 3.0
On Penguin, a refresh update Penguin 3.0 was October 17 which had 1% impact on English queries. Google said that the update released took weeks to be rolled out worldwide. It was not an algorithm update but only data refresh update.
Pigeon
The year wouldn't have ended without a surprise from the company. The release of Pigeon in July changed local search results greatly with Google claiming that the Pigeon algorithm created better and closer ties between core algorithm and local algorithm. It altered the results on local Atlanta results and some modifications done on the handling and interpretation of location cues. It brought improvement in the location and distance ranking parameters.
Noticeable Changes
Photo Authorship Removal
Some changes made during the year 2014 were hard to go without notice. One of these changes was the removal of authorship on photos on June 28th and subsequent removal of all other authorships on 28th August. 'In the news' box was another change that came on October 2014.
John Mueller dropped the bombshell on June 28, 2014; Google was to drop photo authorship in most of the search results. What that made is that no more author photos would be displayed in search results and the 35% increase click-through which resulted from them was gone too. The release was roll out globally in following few days.
The reason Muller gave for the removal was that they wanted to clean up the search results' visual design. Another reason was for a better mobile experience which couldn't be achieved with the photo authorship. Achieving better uniformity and consisted design across different devices was their goal.
As webmasters were getting used to zero photo authorship display, Google made an announcement that they were no longer going to process any kind of authorship in the results displayed. Within 24 hours of the announcement all authorship markups in SERPs had disappeared.
"In the News" Box
A major change was done on the 'In the News' box with more news sites included in the search results. This changed from the traditional results from the sites you had been used to. The change happened on October 2014 and led to substantial increase in organic traffic to major news channel. Any news from any link has the chance to be displayed in the news box using the new update.
Announcements
SSL Update
On August 6th Google made an announcement on SSL Update. Speculations were high that Google was giving higher ranks to SSL secured sites so this announcement didn't come as a surprise but as a confirmation. Sites with HTTPS and a SSL security certificate would receive minor boost in ranking increasing their organic traffic.
It was expected that that impact on global queries from this impact would be around 1%. The aim of this update was to encourage webmasters to improve the security of their users. SSL secured sites help protect users' privacy.
Big News
A leak in the Google Quality Rating Guidelines was the big news for the year 2014. This was the fifth leak of the guidelines which webmasters commonly refer to as Version 5.0. The guidelines were in a 160 page document. The new document had been rewritten to revamping the guidelines which were in the document they made public in 2013 after several leaks before that.
Stressed in the document was E-A-T an acronym that stands for Expertise, Authoritative and Trustworthiness. Google emphasized that sites which lacked E-A-T would be awarded low rating when their quality raters. Webmasters have to work harder in achieving all the three qualities of the E-A-T since if it is not well achieved would also result into low rank as per the guidelines.
Forums and other sites containing user contributed content would suffer in rating due to the lack of credibility such content has. Forums for experts to post articles would get a better rank if the quality raters engage them and assess the credibility of the content.
The guidelines on marketing on websites were very clear that sites which had too many ads would lose rank. They equated the use of many ads to low quality content. This is a major change from previous guidelines which ranked page lowly if only it established that the ads were deceptive. Lowest rank will be awarded to the sites which are designed in such a way that manipulate the visitors to click the ads.
A change in affiliate marketing guidelines for quality raters from giving thin affiliate sites saw that guideline removed. This however shouldn't mean affiliate marketers can afford to fail to maintain high quality sites as the search algorithms would end up ranking their sites lower.
Online shopping merchants were not left behind in the guideline leaked in 2014. The specific features quality raters will be checking to establish if your site is a true merchant include contact page, exchange and return policies.
Summary
2014 was a busy year for Google in updates to better the user experience in using the search engine by releasing updates which changed the ranking system to rank high most relevant pages. It was a good year for sites with good SEO as they got rewarded from their impressive E-A-T measures. For many sites it wasn't very good year though as they saw their rank drop due to lose of organic traffic they enjoyed from photo authorship.
The biggest winner as always is the web user as all the changes were geared to make the web experience better. SSL update in particular benefited the user a lot from losing private information. And, 2015 is expected to be yet another busy year for Google.