Google Local Listing Enhancements
Just about every local business that we work with has a local listing. They've been around for a while, and they're likely not going away anytime soon.  Here's an example: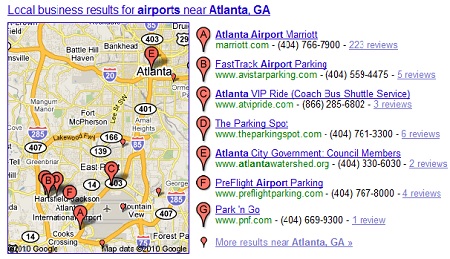 This local listing (in this case, a "7 pack") takes up a large chunk of this search engine result page. One of the very first things we do for clients is create this local listing account and promote it to gain the maximum amount of visibility possible. Virtually all geographic searches will have some form of the local listing pack.
Enter Enhanced Listings
Google has recently added features to the local listing center that enable you to enhance your listing:
Here's an example of a listing that has enhanced their photos:
Make no mistake, that little bit of highlighting can potentially make a world of difference. $25 is a drop in the bucket compared to potentially increasing the amount of clicks on your ad. What's one extra lead worth? Probably much more than 25 bucks.
And the big question…
No, this does not appear to affect the positioning of your local business listing. You'll still need a good internet marketing companyto accomplish high ranking.
The Benefits
You can easily and inexpensively highlight your listing on Google Maps and Google.com from the Local Business Center.
Potential customers in your local area will see what you think is most important or unique about your business.
You can track the effectiveness of your enhancement with your Local Business Center dashboard.
You will be charged a low $25 flat monthly fee, with no bids and no keywords required.
There is no additional work or ongoing management needed.
What you can Enhance
Website for your business.
Photos of your business.
Videos of your business.
Coupons for your listing.
Menu for your restaurant.
Reservations page for your business.
Driving directions to your business.
And the Catch
These enhancements aren't available to everyone just yet:
Unfortunately, as far as we can tell, Atlanta GA is not one of the areas currently being tested. This gives you time to look at your existing local listings and decide if you are where you want to be. If you aren't – we'd be more than happy to help. Take the first step toward securing your internet marketing success and contact us today!
Additional Reading
Official Google Enhanced Listing Answers