Live Chat For Your Business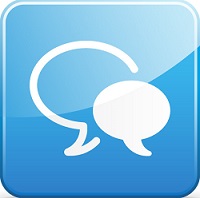 Live chat is an online marketing tool businesses use to quickly service customers inquiring about a particular product or service. Live chat provides a customer experience unlike that of email and telephone support. Live chat is instant, easy to access from any page of the website and allows you to rapidly respond to customer concerns or questions. Live chat is a great tool to help boost your company's customer service and reputation. Communicating to a customer about a product as they are on the exact product's page increases their confidence in your website, leading to more conversions.
Besides improving your customer service, and additional benefit of live chat is that you're developing a deeper customer relationship. Returning customers who have had a great experience are more likely to spend additional time on your website and recommend your business to family, friends or co-workers. In fact, statistics have shown that live chat has the highest customer satisfaction levels at 73% in comparison to 61% for email and 44% for phone. A pleasant customer experience will impact the customer's overall impression of your business. Before implementing live chat onto your website, you will want to consider features you feel are important to creating the best user experience possible.
Features to Focus On When Researching Live Chat for Your Website
Each live chat application has specific features based on the plan you select, including free or paid options. Free plans tend to have restricted features, but paid plans offer more robust features that may enhance the client's overall experience and impression of your business. When choosing live chat software for your website, ask yourself these questions about each feature:
Customer Service Representative-How much will it cost to have one operator, five operators or twenty operators? How much will it cost to add one additional operator to my plan? What is the maximum number of operators I am allowed to have?
Host Environment-Is there an online/offline messaging system available? Can I customize the chat window and chat buttons for my website? Can I update my live chat account or make changes from another location?
Marketing Features-Is there an option for a floating invitation to chat for my website? Can I chat with customers from a mobile phone or smart tablet?
Operator and Customer Convenience-Are sound and visual alerts available? Can I customize greetings and responses or have them pre-written? Is built-in spell checker available? Can operators engage in multiple chat sessions at one time? Can operators insert documents and/or share links with customers? Is the "Someone Is Typing" indicator an option for my live chat? What is the total number of chats allowed per month?
Help and Support (for you!)-Does the site where I pay for my live chat have these help and support items available to me: live chat, email/form support, telephone support, tutorials, FAQs and a knowledgebase?
Integrations-Can my live chat be integrated with Salesforce, Google Analytics and Facebook? Which ones can it not be integrated with? Integration will allow your new chat to be streamlined into your existing process.
Supported Configurations-Can I use this live chat solution on all of my computers and devices?
Comparing the Options and Selecting the Right Live Chat for Your Business
There are several options of live chat available for your website, both free and paid. Here is a comparison chart of some of the most common live chat applications. If you opt for a paid plan, important factors to consider are how many customer service representatives you may need, specific features and simple integration. Free plans are less robust and will most likely require someone in the office to manage live chat sessions throughout the day. Here are some live chat options to consider:
Pure Chat
My Live Chat
Click Desk
Zopim
Velaro
Olark
Comm100
View a features comparison chart of the above live chat software
Tips on Making Live Chat Go the Extra Mile
Once you've picked an application, the next step is to integrate live chat into your website and operations. In order to receive the most from this, you'll want to decide on what you can do to make incorporating this software easy—while making the most out of it.
Train your team. If you are selecting a live chat platform that does not supply operators but requires an employee from your business to manage it daily, make sure they have excellent customer service skills and strong knowledge of your business's products and/or services.
Be aware of your business's shopping hours. You want your live chat to be available during the prime hours, which may not always be your typical 9-5.
Don't be a robot. People can tell when there is a genuine person there to chat with them; therefore robotic greetings or responses can quickly kill the one-on-one client relationship and experience.
Take advantage of boosting your social presence. A customer may not automatically think about your Facebook page when engaging in live chat. But, if you mention at the end of the chat for the client to check out your Facebook page for tips and tricks on a particular product they are interested in will be sure to grab their attention even more.
Give your customers helpful chat features. For example, provide them with the option to receive an email of their chat transcript. This is best just in case the client needs to reference the chat again for information on a product or instructions, additionally saving them from taking more of their time and yours to re-chat.
Always be prepared for surges in chat volume. You can do so by making sure that you have enough customer service representatives to answer client questions and avoiding a wait. Since the entire point of live chat is to offer your customers a quick and efficient experience to satisfy their needs or concerns, you want to avoid having them in a wait queue.
Take the opportunity to upsell. To determine other needs potential or current clients may have, possibly upsell services or products that they might not have thought of.
Thankfully, most live chat software websites allow you to experience a free trial to help determine which chat has the features that will fit your business's needs. By taking advantage of live chat for your website, you can turn around your client's experience while at the same time building stronger relationships with current and potential clients.