Mobile Sites & Your Business
10%. That's the amount of worldwide internet users who used a mobile device in 2011, such as iPhone and Android smartphones (source). Ten percent is significant: every ten visits to your website will typically include a person using a mobile device.
Mobile versus PC Usage
This smartphone thing – it's not a temporary trend. In 2010 smartphones made up around 5% of all users. In 2011 that number doubled to 10%. This number is forecasted to continue to grow. Below are the current trends, which show mobile is steadily rising, while desktop usage is steadily declining.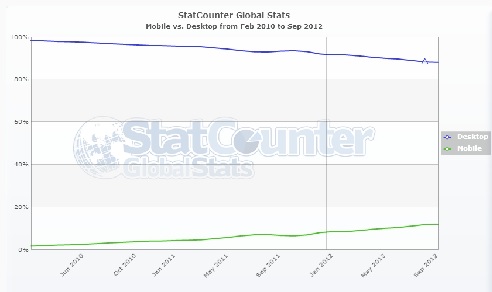 How Mobile Impacts Your Website User Experience
Mobile devices typically have small screens and rely on fingertips to function. Was this taken into account when your website was originally designed? The answer is probably no based on the staggering 66% of websites lacking mobile optimization. Your site was most likely made for a desktop or laptop PC which utilize large screens, a mouse and a full keyword. Things like menus with multiple dropdowns, long wordy sales pages, PDF downloads and even flash elements can create a very different – and potentially frustrating – experience on a smartphone. Frustrated customers may end up leaving your site entirely.
What a Mobile Website Solves
By creating a mobile site, you are creating an experience that matches the format of mobile devices. This means the formatting of your site displays correctly in a smaller screen and people who load your site can easily find what they are looking for, and then find your contact information quickly. Happy viewers are more likely to accomplish site goals – such as calling or emailing your business.
How to Review Your Website
We know Mobile is important and we know it's going to become more popular over time based on the existing trends. Now what?
Browse your site in a mobile phone. Does the site load correctly? Can you read the menus & content?
Become your customer. Place yourself in your customers' shoes. Can you easily identify what your company does, where your company is located and how to get in touch? People on smartphones are not looking to read an essay or browse huge diagrams. They typically have a need and are looking for a solution. Fast.
Check your existing mobile traffic. If you use Google Analytics it's extremely simple to view your existing mobile traffic for a meaningful understanding of the number of users a mobile website will impact in the short term.
Example of a Mobile Website

Before we created a mobile website, we were cramming a lot of information into this tiny screen. In order to find out what we do, our users had to zoom and drag the site around just to read each section and find navigation to the next. In addition it was hard to find our contact form and services pages, because they were under drop down menus that were frustrating at best to use.
After we created the mobile website, there is no need for zooming. You can immediately see the important parts of our website without any extra work. Each clickable area is finger-sized, so browsing is easy. We took our entire 30+ page website, and condensed it considerably so users can find & accomplish our goals with ease.
In Closing
The people have spoken, and mobile traffic is a force to be reckoned with. These mobile users are both your potential and current customers. By creating a mobile site you're investing into your business by making both existing and potential customers happier. Learn more about our mobile website design services, or  contact us to go mobile today!
Further Reading: