Online Marketing Predictions for 2015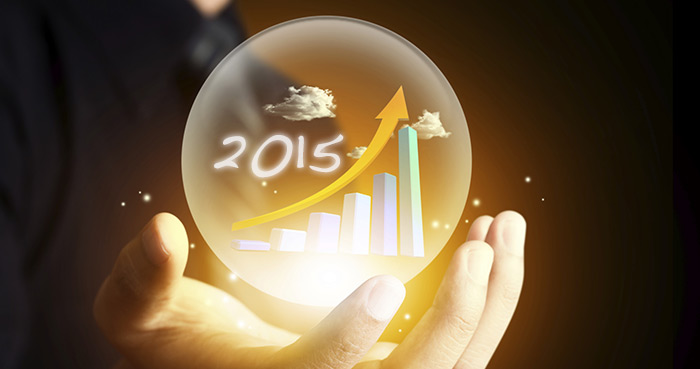 When it comes to Internet Marketing & SEO, how businesses deal with change is critical, and often separates the winners from the losers.  Between the rapid advances in user behavior, mobile technology, and Google's many tweaks to improve user experience, 2015 looks to have a number of upcoming changes that businesses will need to accept & embrace.
Will your SEO and content strategies continue to be effective in 2015?  We have a few predictions for how things will look over the next year – we invite you to see how well they match up with what you have planned.
1. Load Times And Bandwidth Usage Are Critical
It's no secret that many Internet users tend to have short attention spans, and multiple studies over the years have shown that people will begin to lose patience with long page loading times after only three seconds. Your site load time directly impacts your user experience and bounce rate.
Previously, this was seen largely as a site's own problem to deal with, but not any more.  Google is now deliberately prioritizing sites with fast load speeds, considering it a high priority for a good User Experience.
What you can do: Make sure your site load time is as quick as possible – ideally under the three second mark. Make sure you measure load time on both mobile and desktop and address each appropriately. 
2. Mobile User Experience
2014 was the first time mobile device usage overtook desktop usage. In 2015 Mobile devices are expected to outsell desktop computers. The writing is on the wall – Mobile users are an important portion of your audience. Now it's more important than ever to ensure, in addition to loading as quickly as possible, your website is designed to be responsive and mobile-friendly. Even Google is gearing up for Mobile with mobile specific ranking signals.  The challenge with mobile visitors is that they typically have different goals than desktop users. Understanding the differences, and serving each audience appropriately is key.
What you can do: Provide a great experience to both desktop and mobile visitors with a responsive design, or mobile site, while serving appropriate content, solutions and sales messaging to your mobile visitors.
3. Local Search is Becoming an Ever-Bigger Focus
Along with the mobile usage trend, local search will become even more important than it has been to date. When users search from mobile devices, Google can collect more specific searcher data to provide better localized results. In other words where you search from directly impacts your search results.
If your business has any real-world presence or customer base at all, look to optimize your SEO strategies around it. Be certain to include plenty of geographic information on your page, and make sure you have a fully completed Google My Business (formerly Google Places) listing. You automatically get a Search Engine Result Page (SERP) bump on Google from having a complete listing, including pictures, videos, and customer rankings.
What you can do: Make sure your Google My Business listing is completely filled out, and ensure you have correct profiles on important local websites. Local search is a discipline of it's own separate from to Organic and Paid search results. Now it's more important than ever to take advantage of this marketing platform.
4. Keep That White Hat Nice And Shiny
Google has shown no mercy at all towards online marketers who use script hacks, spamming, cloaked redirects, paid links, or any other "black hat" (or even gray hat) tricks for manipulating search engine results. The search engine's goal is to delivery the most useful natural results for the users query. They see search marketers as the enemy, and are ceaselessly looking to undercut those using dirty tricks to "game" the search system.
Frankly, this is something we entirely support. The problem of "noise ratio" on the Internet has long been an issue. The harder it is to find quality information online, the worse that makes the Internet for everyone.
Google's webmaster guidelines are not suggestions, at least not for those who value good SERP results. Search engines now actively penalize sites that break the rules. At this point, anyone who invests in dirty tricks has only themselves to blame when those tricks end up harming their search placement.
What you can do: Ensure all marketing activity falls within the Google Webmaster Guidelines, as well as common sense and best practice. Creating anything of low quality will likely not result in effective performance.
5. Provide Value Instead Of Repeating Keywords
Google has stated repeatedly in the last year that their search algorithms are being upgraded to prioritize heuristic "full sentence" understanding of the search, rather than the older keyword-based approach.  As their language systems grow more sophisticated, Google will be increasingly looking to match questions to websites that give the specific answer to that specific question. To rank well means to be the best possible result for the target search query.
This is where content marketing comes into play. By researching your customers, identifying their issues, how your company solves those issues, then providing helpful solutions you are creating trust & credibility, and talking to people who have a really good chance at becoming your next customer.
What you can do: Know your customer profile. Research their problems and challenges, and provide content that appropriately answers & provides solutions for those challenges. Blogs, whitepapers, FAQ and other content that directly answer your target customer's questions will see big boosts among relevant users.
In Short: Focus On  Providing The Best Possible Experience To Your Customers
Companies should be focused on building a website that serves mobile and desktop users, while providing the best possible experience. Give customers the solution focused information they're seeking, in a format that's fast-loading and easy to use, along with effective conversion mechanisms. Google is now largely behaving like a matchmaking service: when a user enters a query, Google wants to return the best results for that specific user.
Ready to take the next step in 2015? Contact WebTech Marketing today for a free consultation.