Organic Versus PPC Eyetracking
A recent study by top consulting company, User Centric, showed some intriguing findings about where we focus our attention on a search results page. The study found that every participant, when using major search engines Google and Bing (90+% search market share), viewed the organic results for their searches, but a vast majority failed to look at the paid ads on the side.
The study was performed on 24 participants between the ages of 15 and 54, using "heatmap eye-tracking" technology, which measured exactly where the participants eyes wandered on the computer screen, and the amount of time their eyes spent on a particular point. The participants were asked to do eight searches, four with Google and four with Bing.
Organic Versus PPC Chart
Some results differ, but here is a basic example: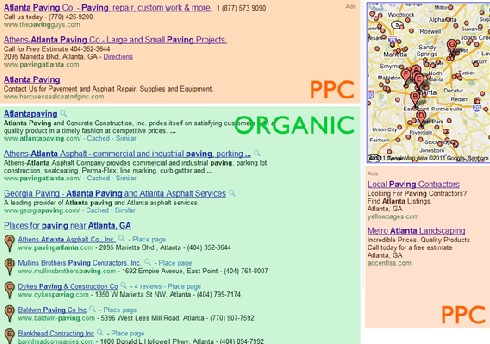 And The Results
Organic Results
Specifically speaking, the results showed that all participants, whether using Google or Bing, viewed their organic search results. Each user took around 15 seconds to view their results using Google, while it took Bing users merely 10.7 seconds. Considering Google's obvious domination on the web, this four second difference is very interesting. User Centric explains that their participants might have a had more difficulty finding their information on Google, but they're not yet sure why.
Paid Ads
Perhaps the most telling data concerning the success of ad placement among the two search engines was that only around 20-30 percent of participants even glanced at ads that appeared on the right side of the screen. Not to mention that these glances, on average, lasted for less than a second.
Around 90 percent of the participants using both search engines, viewed the ads that appeared at the top of the screen, but to the contrary, only 17.5 percent of Google and Bing users took a peak at the "filters and refinements" section, found on the left side of the screen.
Source: Eye-Tracking Study: Everybody Looks At Organic Listings, But Most Ignore Paid Ads
Takeaways
Organic gets a lot more attention than PPC
PPC ads on top are seen a lot more than on the right, however the time spent is similar between both PPC positions.
Final Words
While organic listing get the lions share of clicks – we recommend doing both organic and PPC campaigns concurrently. Often times they compliment each other because each user is exposed to your brand a lot more. While it appears the interest is low in PPC, we've seen an upwords of 2,000 clicks per month for a single local-based client. There is no question either type of campaign is viable, and if done right will yield a positive return on investment – especially done together.
If you'd like to find out more about PPC and Organic Search Marketing, feel free to contact us!