Reach Your Customers On The Go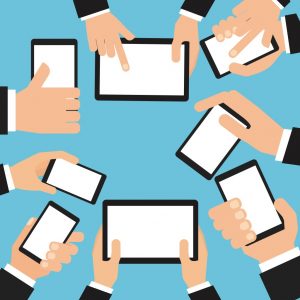 Earlier this year Google announced a change in their search-ranking algorithm that sent
many in the Internet Marketing realm running for cover. The change took in the fact that more people are using their mobile devices for search, making purchases and social media than ever before.
Because of this, Google wants to serve up more mobile-friendly results. As a result Google crawled every website and gave it a simple "Yes" or "No" rating to determine if it was mobile friendly or not. However, just having your website show up properly on mobile devices is not enough. While responsive web design is important, if you want to really leverage mobile marketing, you need to dig deeper and really understand how your customers use their mobile devices.
Map Your Customer's Mobile Journey
Your customer's mobile journey to purchase is not a linear one. They are constantly on the move and often use multiple devices to make a purchase.
A consumer may be walking back to his office after eating lunch and remember that he needs to make a reservation for dinner this weekend to celebrate his girlfriend's birthday. He pulls out his smartphone and searches for restaurants close by. He finds one he thinks his girlfriend will like.
While sitting at his desk he uses his tablet to check the Yelp ratings and makes a reservation. The day before his reservation he gets an email on his work desktop from the restaurant reminding him of his upcoming dinner. All is well.
As a business owner you need to know how your customers interact with their mobile devices and design your website accordingly. In a recent study by Forrester, they discovered that 75% of US adults use at least two devices that are connected to the Internet and that 67% have switched to a mobile device in order to complete an online transaction.
This means that you must ensure that your website not only looks good but is functional on all mobile devices.
The Battle To Own Micro-Moments
The ways consumers are interacting with media have changed. Google is encouraging marketers to take advantage of what the company calls "micro-moments." In a nutshell, micro-moments are those brief moments when a consumer reflexively reaches for his or her mobile device (usually a smartphone.) In this moment she may want to learn something, watch something or buy something.
It is up to you to anticipate and capitalize on these micro-moments. A perfect example of this is Apple Passbook. For example, this service will automatically load your Starbucks Rewards card whenever you pass one of their coffee shops. The consumer is there, his or her card is ready and making a purchase is seamless.
Consumers want simplicity in the buying process and by leveraging micro-moments your company can gently guide them towards making that purchase. Examine the content that customers access during each stage of the buying process and what type of device they are using.  Identify any trends and build on that.
Determine the path that your customers take before making a purchase. What path do smartphone buyers take? What about tablet users? What sites are they arriving from? Once you know all of this, you can design your site to make these paths run much more smoothly and, ultimately, increase your sales.
Leverage Mobile Intimacy
The mobile experience is increasingly becoming more intimate for consumers. For many consumers, the first thing they look at in the morning is their smartphone. They turn off the alarm and then check emails or social media.  They are texting friends and family throughout the day. If they read an interesting article or watch a funny video they are likely to share it with others on social media.
For most consumers their mobile device is never out of reach. Because of this many consumers develop a bond with their device. The smartphone is not just a communication device it is a trusted source of information.
As a marketer you need to figure out a way to make your customer's mobile experience with your company more personal and pleasurable.
Think Ahead
Now that you know how your customers and prospects behave on their mobile devices you need to plan ahead and make sure you company is ready. You want to make sure your prospects can find what they want easily. Make the buying process and frictionless as possible.
If you ready to make your website mobile friendly and increase sales contact WebTech Marketing Services today and we can get your site mobile ready.