Internet Marketing Services
WebTech has years of experience building Internet flight plans and we understand the ever-changing rules of the digital airspace. Our long-term expertise gives clients a web presence that can't be ignored.
We help your ideal customer find you. Our process-driven approach helps businesses become more visible. At WebTech, we aim to understand your target market to make sure you're reaching them. We help you garner more traffic to your website by addressing technical issues that might be harming your sites performance in search engines. And we help you grow your website's authority, rankings, and visibility by acquiring the links that search engines expect to see.
Internet Advertising
Online advertising is more than just paying for clicks. Smart businesses pay for strategy. At WebTech, we're obsessed with data and our campaigns reflect that. We align our clients' goals with the nuances of PPC advertising platforms, consistently increasing returns on paid search investments.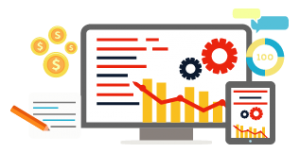 Social Media
WebTech can help you navigate the crowded social media waters with expert consulting. Our social media best practices will enable you to determine why, what, and how you should communicate about your business on social media. We can also work with you to integrate your social media plan into your overall marketing program and link it back to organizational goals.
Email Marketing
Email marketing is one of the most effective ways to connect with customers, strengthen relationships, and foster sales. WebTech knows how to create successful email marketing campaigns. We develop eye-catching designs and savvy copy that will drive traffic directly to your website.
Content
At WebTech, we use content marketing to help companies improve communication, increase website rankings, build online communities, and inspire engagement. We make recommendations, help develop content ideas, and have a team of writers on-hand to help you tell your story.  We want to create high-quality content that meets your business objectives and inspires people to share your information across the web.  The result is valuable interactions between your brand and your customers.