How To Build Your Brand On LinkedIn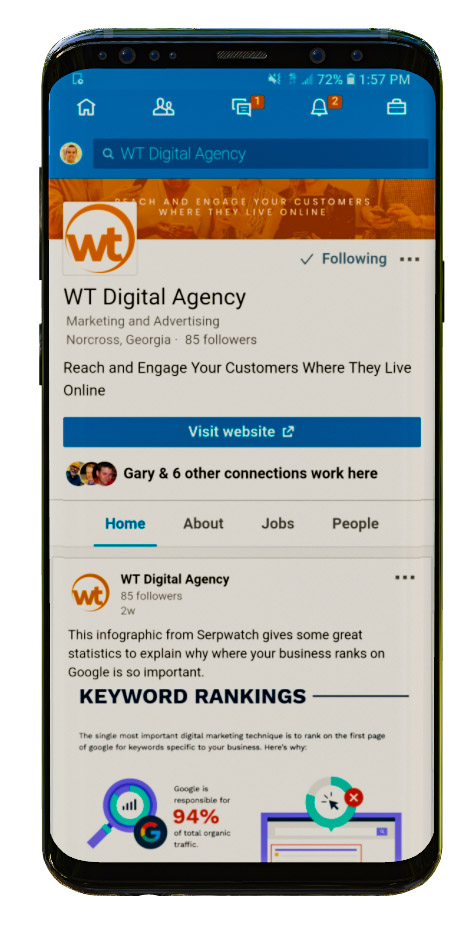 With more than 332 million registered users, LinkedIn is the largest social network for professionals. Today, more than 4 million businesses have a company page on LinkedIn. The question is, are you one of them?
If you said yes, are you using this social network to effectively market your business? We've created a guide to help you master this social media platform and take it a step further.
If you said no, are you ready to get started? WebTech can help you with the entire process and provide suggestions for achieving success on this unique social network.
Why Use LinkedIn for my Business?
LinkedIn Company Pages provide unlimited opportunities to feature your products and/or services, share your company's story, share career opportunities, and much more. Here are a few more reasons why LinkedIn is valuable for your business:
Attract business clients
Generate new leads
Build relationships
Maintain "Top of Mind Awareness"
Establish thought leadership
Keep up with your competitors
From setting up your profile to gaining followers, now it's time to learn about the ins and outs of LinkedIn. Sit back and relax as we show you how to use LinkedIn to grow your business.
The Components of a LinkedIn Company Page
As with all your social media accounts, you should fill out as much information as possible and as accurately as possible. However, LinkedIn is the one site amongst all your social media profiles that requires the most professionalism.
Don't just create a profile that looks like an extension of your about page. Use your LinkedIn page to highlight your capabilities, experience and the benefits associated with utilizing your business. Write for your target audience and get them interested in what you have to offer. Here are some great company page examples.
A LinkedIn Company Page has 4 main sections, these include:
Home
Careers
Page Insights
Analytics
Beginning The Process Of Creating Your LinkedIn Company Page
Before you can begin building your LinkedIn Company Page, you'll need to create a personal LinkedIn account. As we discussed in our previous post "Beginner's Guide to Facebook for Business," the same process applies. Just in case, here's how to get started on LinkedIn if you do not already have a personal account:
1. Visit linkedin.com
2. Fill out the form on the home page.
3. Click 'Join Now.'
4. Fill out your profile: add your experience, summary, photo, etc.
Prior to starting your business profile, make sure that you meet the following requirements:
You must have a personal LinkedIn profile set up with your true first and last name
Your profile is at least 7 days old
Your profile strength must be listed as Intermediate or All Star (explanation)
You must have several connections on your profile
You're a current company employee and your position is listed in the Experience section on your profile
You have a company email address (e.g. joh[email protected]) added and confirmed on your LinkedIn account.
Your company's email domain is unique to the company.
Creating Your LinkedIn Company Page
1. Move your cursor over 'Interests' in the top menu. Select 'Companies.'
2. Click 'Create' in the 'Create a Company Page' box on the right.
3. Enter your company's name and your work email address.
4. Click 'Continue.'
5. Confirm your email address.
6. Edit your Company Page.
Editing Your Company Page
Almost there – now your shiny new company page is in need of information about your company! Fill in all available fields – the more complete your profile is the better.
1. Fill out all information. Visit your company page and select 'Edit' from the right-hand side. From there, you will be prompted to fill out basic information about your company. Be sure to include a brief description of what your company is all about.
2. Add page admins. To add page admins, ideally employees, you must be connected to the member on LinkedIn first.
3. Add photos. Upload a nice cover photo, standard logo, and square logo.
4. Company specialties. As a part of the summary section, you are able to add searchable keywords related to what your company does. Be sure to add as many as you can.
5. Post updates. If you're currently using Facebook, posting updates to LinkedIn is quite similar. You can also promote a recent blog post, share a video, and much more. When you post, you are able to click into the title and description generated and customize it before posting.
How to Attract Followers
Establishing authentic relationships is important for success on LinkedIn. Once you've beefed up your company profile, you can begin fostering relationships by attracting followers to your page. Because, 3 out of 4 members use LinkedIn to keep up with business news or to research companies.
Here are some easy ways to attract followers and get those relationships off to a great start!
Engage your colleagues: Employees are your most dependable advocates. Therefore, it is a great idea to encourage them to complete their personal profiles and include a link back to your company page in their email signatures.
Announcement of your company page: There are several ways you can announce your new company page: e-blast, newsletter feature, flyer, etc. Send this out to your existing customers or partners.
Adding a "follow" button to your website: You can pull simple code for a "follow" button from developer.linkedin.com. Add this to both your blog AND your website. The more the merrier.
Blog about it: Once your company page is ready, start adding content. Once you done so, you can drive traffic to it through a captivating blog post.
Contribute to popular groups: There are over a million LinkedIn groups serving as communities for professionals world-wide. Target groups that are relevant to your industry or type of customer you serve. And remember, if you decide to reply to group discussion, which you should always try to, include a link to your company page at the end of your post. Keep in mind that your goal is not to sell, but to provide helpful information and share insights.
Utilize LinkedIn Ads: LinkedIn Ads, just as with Facebook Ads, allow you to promote your Company Page through an ad campaign. You may select your headline, description, image, target audience, and budget. To get started, find the item 'Business Services' in the top right corner on the menu. (Under the 4 icons). Then select 'Advertise.'
How to Achieve Success
Whoa! Don't stop there. The fun has only just begun! Now that you've figured out how to attract followers, how do you keep them? Nourish those relationships. Relationships cannot achieve success unless there is constant communication. Ah…the power of the company status update.
So…what makes a killer status update?
Post informative content: 68% of LinkedIn members would like to receive relevant news articles from businesses.
Don't try so hard to sell. Be friendly: DON'T post promotional messages! Focus on content that is helpful. It's okay to post, on occasion, company-related news or product updates/launches, but be sure that the content delivers a benefit to your page followers.
Say it concisely: Keep it short. A sentence or two is perfect.
Post often: You should post at least once per weekday. LinkedIn states that companies who post 20 times per month reach at least 60% of their audience.
Consider timing: Experiment to see what works for your company. According to LinkedIn, updates posted in the morning are best, with a slight bump again after business hours.
Link to awesome content: Updates that include links tend to have up to a 45% higher follower engagement than those without links. Always include a compelling sentence to go with the link to help motivate members to click through.
What's next? Amplify that content. But….how do you get your followers to do that? That's easy.
Ask coworkers to share your content: Encourage your employees to share your status updates and create a status with a link back to your website.
Video, Video, Video: Compared to posts that do not contain videos, a recent study found that when a status includes a video, followers who engaged took twice as many amplification actions ("likes", shares, and comments). Oh….and make sure those videos are interesting!
Ask questions: Your Company Page followers are likely to welcome the opportunity to respond to questions and engage in conversation via the comments. On average, those status updates that contained questions received nearly 50% more comments than those that did not ask questions.
Listen to conversations away from LinkedIn: Keep your eyes and ears peeled and collect findings from your contact forms, blog comments, etc. By doing so, this can help you create and post content that better reflects your community's interests.
What else can you do? Interact.
As you post engaging content, followers will tend to leave comments below your updates. Don't leave them high and dry. Dive right in, the water's great!
Not only does this help build loyalty, but it keeps the discussion going. There's no point in posting content that doesn't drive a conversation. To keep on track, retain a team of coworkers as ambassadors to your follower community, enabling them to respond to comments as well.
Go On, Get Out There!
Alright, you did it! Now that your page is ready, you need to maintain it. All you need is 10 minutes a day and the drive to do so. Don't be afraid to set time aside just for this. It can make a world of difference. Dedicate one day a month to get your posts planned out ahead of time (for the next month), and you can cut that 10 minutes down to 5. LinkedIn is not like Twitter where you need to put out constant updates just to keep the conversation going. All you need to do is focus on providing helpful content daily, respond to comments regularly, and analyze what's working and what isn't to make improvements.
Can you do it? Of course you can! Seem a bit overwhelming? WebTech can help you with that! Contact us today to get started on building your brand on LinkedIn.
By: Brianna Lawson, Digital Marketing Specialist
Brianna comes to WebTech from the University of North Georgia with a B.S. in marketing, and has a strong background in social media & content development from previous agency experience.