How to Choose a Web Design/Development Company
First of all, let me say right up front that I manage web development projects for a company that builds, hosts, maintains and markets websites. I talk with people every day who say they need a new website. Of course, I'd like some of them to choose us for their projects, but not all of them.
The people I find looking for websites might be small businesses needing their first professional website, sole proprietors just wanting an online calling card, startups (funded or not) looking to get setup online, business owners with established websites in need of an overhaul, or simply a refresh to an existing site.
A quick Google search for Web Design Firm turns up over 30 million results! Clearly, not every web design agency, website developer, internet marketer, or custom developer will be a good fit for every business owner in need of a website, nor the other way around. So, how on earth are you supposed to narrow the field and ultimately pick the right one for you?
Fear not. With some basic planning, and a few strategic questions you can pretty quickly figure out the web design firm or developer that will best fit your needs and budget. Oh yeah, budget…more on that in a minute. Think of the selection process more as a courtship than an interview process, although it will surely lack the flowers, chocolates and romantic music, you will be working closely together for an extended period of time and compatibility is key.
To kick off things on the right foot, you have some basic homework to do before making your first inquiry. I won't go into too much detail on this part now (this could be another post all its own), but here are some basic questions to ask yourself that will do a lot to get you prepared for this undertaking.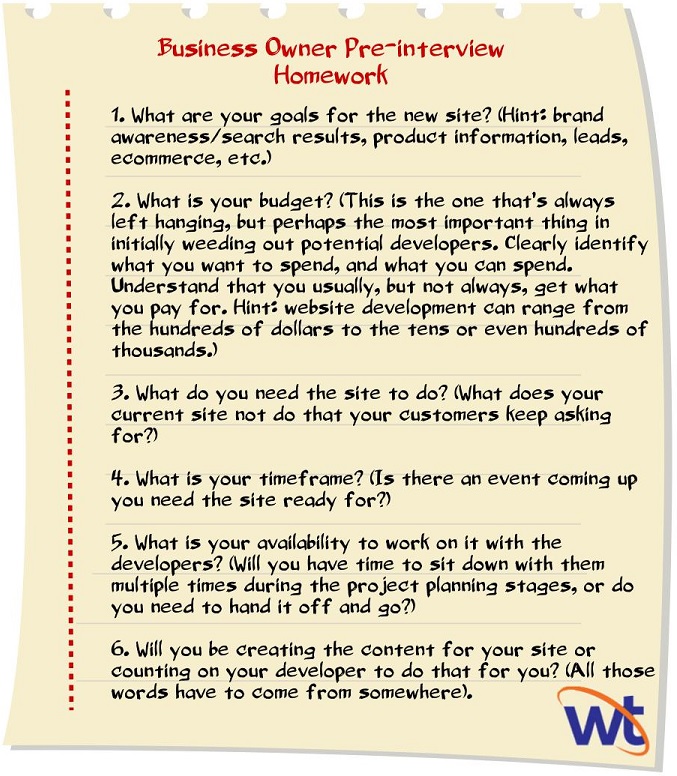 Business Owner Pre-interview Homework:
1. What are your goals for the new site? (hint: brand awareness/search results, product information, leads, ecommerce, etc.)
2. What is your budget? (This is the one that's always left hanging, but perhaps the most important thing in initially weeding out potential developers. Clearly identify what you want to spend, and what you can spend.
Understand that you usually, but not always, get what you pay for. Hint: website development can range from the hundreds of dollars to the tens or even hundreds of thousands.)
3. What do you need the site to do? (what does your current site not do that your customers keep asking for?)
4. What is your timeframe? (Is there an event coming up you need the site ready for?)
5. What is your availability to work on it with the developers? (will you have time to sit down with them multiple times during the project planning stages, or do you need to hand it off and go?)
6. Will you be creating the content for your site or counting on your developer to do that for you? (All those words have to come from somewhere).
Now that you have some goals, a budget in mind, an idea of what the website needs to do, your timeframe, and some ideas on where the content will come from, it's time to begin the selection process.
The best place to start is to gather referrals. Talk to others in your industry, vendors, friends, even clients. Chances are you know more than a couple of people who have recently hired a web developer, or have a web guy (or gal) they really like. Try to collect a list of 3-5 companies to start with. Do a bit of research on those referrals, check out their websites, their clients, their work, and their staff. If they look good online, add them to your short list.
Once you've gathered your list, you will need to know what to ask. All too often I get people asking me "What does a new website cost?" The question is not a bad one, but it's impossible to answer without a lot more information. To get you on the right track, here are the six questions you should ask that most people don't:
1. Can you work within my budget? People are often fearful of tipping their hand so early in the game, but an open dialogue here will save everyone a lot of time and effort. A reputable company will not alter their pricing based on your stated budget. The work costs what it costs, but the scope of the project can be tailored to fit within your budget.
A good response to this question will be something like "Tell me about what you hope to accomplish with your new website? Are you looking to simply place a calling card online with an updated look, or will you be selling products through your website?" By defining scope at a high level this early in the conversation, you can both move on more comfortably into further discussion.
2. What is your process and how long with the site take to build? This double question is another leading question that will tell you a lot about the developer or agency you are talking to. A quality agency will have a well-defined development lifecycle process. They will be able to articulately answer this question and give you a time frame within a range for similar types of projects.
3. Can I meet the team who will be doing the work on my project? This is another revealing question. The answer will let you know if the company you are talking to has their own employees, or full time contractors, or it is an assembly of freelancers who may not have worked together before. You may be surprised to find out that the company you're talking to is really just a one man show. Be leery of any answer here that isn't forthcoming.
4. What's your approach to user experience? This question, maybe more than any other, will tell you how experienced, skilled and current the company you are talking with is. An inexperienced designer or developer will likely be flustered by this question, while a more seasoned developer or agency will be excited that you asked and enthusiastically tell you about their usability testing, mobile and responsive design that goes into all of their projects.
5. Will you support the site after it is completed? A website is a living entity and should really never be complete. Businesses grow and change. Technology changes. User preferences and habits change. You will want to be sure the company you are working with will be there to support you going forward. Find out what kind of support is included, what will be an extra charge, and what kind of response times you can expect.
6. Do you create content for my site, or will I have to do that myself? You already asked yourself this question in your homework (you did do your homework, right?). Most web developers do not write content. In fact, this is the single most common place for website projects to stall. Think about how many websites you've seen out there with pages that say "some text about us goes here." Since you probably figured out that writing all the content for your new web site is not a small task, working with an agency that has writers on staff, or has a group of writers they regularly work with can be a huge help and save you thousands compared to hiring a freelance writer on your own.
Bonus Question:
7. What kind of reporting do you provide, and how will you measure success? If one of the goals you identified included ongoing marketing, increased newsletter signups, or increased sales for an ecommerce site, you will want to be able to measure success. Having the company that is building the site also do the ongoing marketing, analytics and reporting can be a huge advantage. While you can hire a separate company to do this work after the site is built, they will very likely have to make modifications to the site add additional content and maybe even rebuild parts of it to make it more search engine friendly. Having the same company do both means this work can be incorporated into the initial project saving you a great deal of time and money in the long run.
Of course there are lots of other obvious questions to ask. Have you worked on sites in my industry? Can you provide me some references? What are some similar projects you have recently completed? What are your payment terms? And so on. But, asking those six or seven questions listed above will get you most of the way there to choosing your developer. Consider that building the website is just one part of your online presence. There is also social media, blogging, and a wide variety of directory and profile listings around the web.
If you're a sole proprietor with a very small budget, the one man show may be right for you to get started online. If you're an established business with need for detailed analytics and reporting, you may want to go the agency route for full marketing support and help setting and achieving specific business goals through your online presence.