KPIs to Track SEO Performance in 2023
In the digital marketing world, SEO campaigns aim to drive organic search results and "free" website traffic from Google and other search engines like Bing and Yahoo. SEO performance is largely determined by changes you make to your website, what your competitors are doing, and changes search engines make to their search result pages.
Today, we'll focus on SEO KPIs and performance metrics based on what we know about Google's algorithms. Google's search results are constantly changing to provide the best user experience (UX) for their users.
At a very high level, Google ranks web pages based on:
Page Content,

or how well your page content aligns with your target keywords typed into Google, while going into enough depth and utilizing language deemed important for the specific search query. Basically offering the best answer to the question being searched.

Competitive Domain Strength

through the quantity and quality of your backlink profile often referred to as

pagerank

or

DR

. Search engines like Google use backlinks pointing to your site to determine your authority and credibility, which impact how your website performs in competitive searches. 

Technical Optimization

including page-level elements such as meta titles, headlines, entities, load speed to site-wide signals such as internal links and site structure. Specific tuning to meet & exceed the other websites listed on your target search result pages.

User Experience & Satisfaction Signals

such as search result click thru rate, and browser tracking such as website bounce rate & dwell time. Signals that convey to search engines that their users are satisfied with their experience after clicking your page.
Now, let's jump right into the primary SEO KPIs and metrics to track in 2022.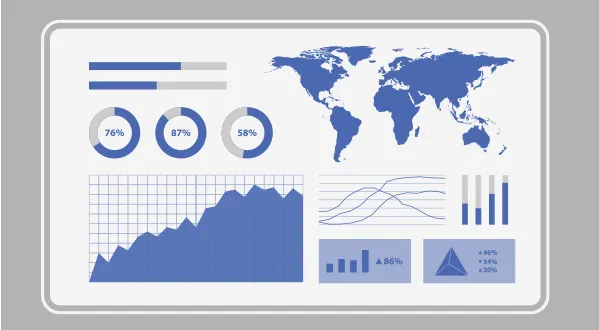 1. Aggregate GSC Search Impressions & Clicks
Let's start with one of the greatest tools available for search engine performance data - Google Search Console. Simply log into GSC, click the "performance" link in the sidebar to access your overall impression and click data over time. This is a great 500 foot tall view of how often your site is displaying in search results along with how many clicks your website is attracting. Keep in mind GSC will always show different numbers than Google Analytics due to the way Google measures the data.
This is important because Google Analytics tracks what happens after the users enter your website. GSC is the only place you will be able to see what users are doing within the SERPS before they click on your website. Knowing how often your site is displaying along with total clicks provides critical trend data. 
The KPI here is straightforward - total impressions and clicks each month. A healthy search campaign will improve these numbers over time.
2. Search Positions and Keyword Rankings
In addition to Aggregate data, GCS also allows you to dig deeper into specific queries and landing page performance. Generally speaking, the higher your search rankings on SERPS (search engine result pages), the more traffic, leads, and conversions you'll receive. This is based on the fact that the first result generally commands the highest click through rate, with each remaining listing getting a smaller and smaller portion of the remaining clicks.
While in the performance tab of GSC, click on queries and pages to review actual keywords each of your web pages are displaying for along with how each page is performing. GSC will report impressions, clicks, CTR % and average position. Knowing your current keyword-level click-through rate (CTR) is critical for measuring SERP performance. 
Using keyword data from GSC, along with a healthy amount of keyword research effort, you should have a list of target keywords you are trying to make your website visible for. You should use rank tracking tools such as Ahrefs and SEMrush to keep track of these target keywords to monitor if the changes you are making to your website are positively impacting your rankings.
This is less of a KPI and more of a signal, but it's important to keep track of your ranking improvements over time. 
Ways we typically monitor ranking performance:
average position of all target keywords

average position of keyword groups or landing page URLs

number of first page positions
Regardless of how you track your rankings, you should be able to identify ranking growth and loss trends over time.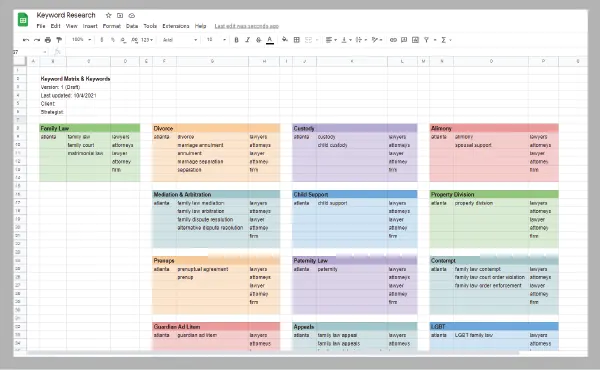 3. Website Visitors & User Experience
Now we're getting into the good stuff. Actual website visitor data. You can use Google Analytics to track the quantity (quantitative data) of visitors along with their behavior (qualitative data).
The first and arguably most important KPI is going to be total unique organic visitors. Any successful SEO campaign should drive additional traffic to your website via the organic search channel - or clicks specifically from search engines. 
Beyond the actual quantity of users, there are some key qualitative metrics to pay close attention to including:
Conversions

Bounce Rate

Pages per Session

Avg. Session Duration
Obviously we're not trying to create new visitors for the sake of new visitors - we want those visitors submitting contact forms, making purchases and placing phone calls. We also want our users to have a good experience, and our best way to measure that, beside conversions, are going to be bounce rate and average session duration. These are to be used cautiously - they help tell a story but have nuance. 
Google Analytics measures bounce rate as the number of single-page visits to a website. This means a user visited a specific page, then stopped requesting additional pages. This is generally a bad thing, but there are occasions when this is fine, such as accessing a contact page for a phone number or having a question that is completely answered on one page.
Pages per session is simply the average number of pages your users averagely clicked on, while Average Session Duration is the average number of seconds your users spent on your website overall. Generally both behavioral metrics can be interpreted as higher = better but not always.
While tracking conversions are straightforward,  Bounce Rate, Pages per Session and Avg Session Duration are more nuanced. As your traffic increases your conversions should generally scale at the same rate. Monitoring the behavioral metrics helps to establish baselines, so when you make a significant change to your website UX, structure, content or ranking for different keywords, these behavioral metrics can indicate if the change made was positive or negative.
4. Backlinks
Building up and diversifying your backlink profile is a time-intensive, yet vital "off-page" SEO strategy for indexing and ranking your website organically. In fact, #1 result in Google has an average of 3.8x more backlinks than positions #2 through #10. 
Backlinks signal to Google and other search engines that your website and content is authoritative, trustworthy, and reputable. Google's algorithm looks at the volume and quality of the referring domains that link to your website. 
However, the number of websites that link to you is NOT as critical as the QUALITY of those backlinks and referring domains. You want backlinks to your site from industry authorities
You can use paid and free SEO tools like Ahrefs to find, monitor, and measure your backlinks as well as the backlink profiles of your competitors. These tools calculate the link authority index of specific links as well as the overall quality of your link profile.
Your backlink profile is scored based on the number and quality of your referring domains and how your domain compares to all other domains on the internet.
P.S. Internal linking when publishing blog posts is also immensely helpful for SEO and indexing. It makes it easier for the reader and search engine "crawlers", "bots" and "spiders" to find new content and understand the context and how it relates to other pages on your site.
You should be increasing the total number of backlinks linking to your domain over time. We tend to keep track of new links created and categorize them by the level of effort or difficulty to create. We don't spend too much time on PageRank or DR as these are vague estimations.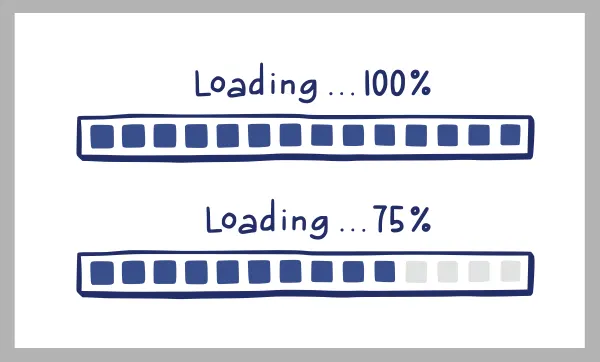 5. Page Speed & Core Web Vitals
Speed is important because users have very little patience, and every millisecond you chip off your load speed can realistically correlate to dollars and cents. fast websites that are well structured and accessible have a significant advantage in the SERPs. 
You can measure and monitor your web page's mobile speed and page quality using Google PageSpeed Insights (PSI), GTmetrix, and Web.Dev. The latter two measurement tools use the open-source tool Lighthouse to score the performance & accessibility of a given webpage. 
These tools generally report a site load time, along with Google Core Web Vitals metrics including the loading performance, interactivity, and visual stability of web pages. Once you run a Core Web Vitals report you will see the following metrics:
Largest Contentful Paint (LCP)

- how long it takes for the largest item to load in the browser's viewport. Shoot for an LCP within 2.5 seconds. Or, at the very least, within 4 seconds maximum.

First Input Delay (FID)

- how long it takes your web page to respond when a user clicks on something. Shoot for an FID of less than 100 milliseconds. Or, within a max of 300 milliseconds.
Cumulative Layout Shift (CLS) - measures if/how much the page contents (text, images, etc.) jump as the user scrolls the page. Shoot for a CLS of less than 0.1, or 0.25 at max.
It's 2022 - if your site does not fully load in under 2 seconds you're going to need to up your game. Once you are at a blazing fast load speed It's critical to keep track of these metrics ongoing as websites can slow down over time.
6. SEO ROI
Calculating the return on investment (ROI) of your SEO efforts allows you to demonstrate value, benchmark progress over time, and justify the time and resource investments to stakeholders. Yet far too often, organizations just use KPI metrics like traffic and ranking positions when measuring SEO performance.
Beyond all SEO-related KPIs, consider all internal and external investments when measuring ROI, just like you would for any other marketing strategy. For example, are you outsourcing any SEO activities or using a third-party service? If so, include it in your ROI calculation.
The standard formula to calculate ROI is: (Gain from Investment - Cost of Investment) / Cost of Investment. But this is pretty vague. We generally use a few methods to report on an ROI, such as:
Direct Revenue

Lifetime Customer Value
Direct Revenue is great for ecommerce websites where people place direct purchases. We simply take the overall revenue, compare that to the SEO cost, then the difference becomes ROI. Consider the real dollars, time and staffing expenses, and projected returns when measuring and tracking direct revenue.
Lifetime Customer Value (LCV) attempts to estimate the long-term value of each opportunity and is generally used for service-based businesses like plumbers, lawyers, consultants, etc.
As you know, it's easier (and less costly) to engage and retain previous customers than to win new ones over. Plus, repeat customers contribute to your non-monetary goals in various ways (e.g. inbound SEO and organic traffic) over the duration of their relationship with your organization. So it's vital to incorporate LCV in your SEO ROI measurements.
Want to learn more about ROI calculations? SEMRush has a great post that digs in further. 
Wrap-Up: Tracking SEO KPIs
Consider your business vision and goals when determining which SEO KPIs you want to track. Think about the real dollars, business impacts, and anticipated returns. Before any large-scale deployment, it's important for your SEO KPIs and proof of concept to confirm ROI.
Need help establishing your KPIs, rolling out SEO initiatives, or benchmarking your success? Get in touch with us to enable your strategic priorities today.