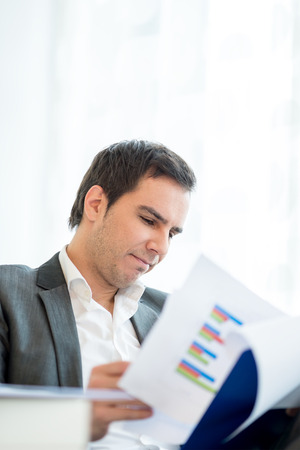 Your SEO report should be a treasure trove of useful data. It should offer clear performance indicators of your marketing activities & efforts. In addition to reporting, this report should also lead to actionable recommendations for tweaking your marketing strategies and appeal to your readers, clients or customers. Search engine optimization (SEO) is a complex process, but with the right information, the end results are much simpler.
Most SEO reports include the following basic elements. Here is an example report we offer our clients.
Organic Search Traffic
Your website traffic comes through many different channels, but if you're working on search engine visibility, the number of visitors each month helps identify progress of SEO activities. Organic traffic includes any visitors who use search engines to find your website. For example, if a potential lawn care customer searches for "landscapers in Tacoma" and finds your website in the links, their click will fall under your organic search traffic.
Paid Search Traffic
If you are utilizing paid search marketing, or text and image ads on Google, Bing, Yahoo, Facebook, LinkedIn, etc. There are specific metrics that matter more than others. The one metric we focus on is cost per lead – which is the advertising cost divided by the number of conversions. Let's say you spent 10,000 last month and you received 100 form submissions – this would give you a cost per lead of $100. Ideally over time this cost per lead value will either remain consistent or become lower over time. Many clients tend to focus on cost per click, however cost per lead is the real metric to watch.
Referral & Social Traffic
Referral clicks, or people clicking from other websites usually make up 10-50 percent of a site's visitors. It is very important to keep track of these visitors, who is converting and the source of traffic for the people who are converting. See a lot of people from Yelp? Perhaps advertising on Yelp would be a good next step to get more conversions next month, provided the cost per lead is within a good range! Social clicks are people coming from Facebook, Twitter, etc. and can be very important per your individual marketing efforts.
Conversions
Beyond quantitative data like visits, qualitative data like conversions offer the best indicator of performance on your marketing activities. Conversions can be product sales, contact form submissions and even phone calls if you are tracking phone calls. Conversion tracking identifies how many goals were accomplished by your site visitors after visiting a website, reading an email, or otherwise interacting with your messaging. Tracking these actions versus your traffic helps identify the effectiveness of your website and if your understanding of your audience, website content and messaging are aligned. For example, if you send an email digest with a clickable link at the bottom, your conversion rate will represent the number of recipients who read the email and proceeded to click the link. If you want blog readers to request a consultation, your conversion rate will tell you how many readers went on to fill out your appointment request form after reading a specific post. When this information applies to an advertisement that encourages people to click through to your website, it's a "click-through rate".
User Engagement and Website Load Time
Each month you should be looking at user engagement metrics such as site-wide average time on site, average number of pages visited and average time it takes for your website to render. Keeping a close eye on these will allow you to identify and remedy website issues before they become a much bigger issues. It is also important to compare your pages against other similar pages to find opportunities for improvements. Keeping close watch on your website load speed time is critical – the time it takes for your website to render directly impacts your site visitors, whom often times will close a page taking too long to load. Pingdom offers a great tool to check your site load time.
Use Data That Matters
At the end of the day the specific key performance indicators (KPIs) that you use to gauge your website performance and marketing efforts should be directly matched to your marketing objectives and activities.