How Can SEO and ADA Compliance Work Together?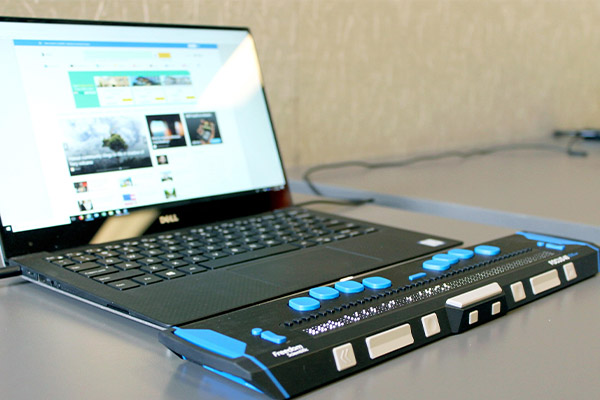 When was the last time you've monitored your website's SEO (search engine optimization) performance? If you can't remember, it's probably time you do! As a business owner, it can be overwhelming to consider all of the ongoing improvements and crucial elements you need to include to support your brand's online presence. This includes developing an accessible user experience and user interface that can be viewed by users with disabilities.
Learn more about how ADA compliance can become a huge asset to your SEO strategy. 
What is ADA Compliance?
ADA compliance refers to the Americans with Disabilities Act Standards for Accessible Design. These rules were created by the United States Department of Justice in 2010 to establish guidelines that ensure online accessibility rights for blind users and individuals with disabilities. An ADA-Compliant website is something that's expected, by both customers and the law. In fact, failure to comply can lead to accessibility lawsuits, hefty fines and more. By making a website ADA compliant, you can improve its user experience while also making it accessible for screen reader users and people with visual impairments and other disabilities.
What is Search Engine Optimization (SEO)
Search engine optimization, or SEO, refers to the process of improving a website's search engine rankings to make relevant content more visible for the users who are searching for it. SEO encompasses many aspects of digital content strategy, from developing a responsive design, including relevant keywords (otherwise known as keyword stuffing) and establishing a regular content cadence. All of these elements and more can boost search rankings for your website and increase organic search visibility — which can in turn lead to more customers. 
How does ADA Compliance Help SEO?
The right content strategy for your website can drastically improve the accessibility of content while improving your website's SEO ranking. In many respects, the two are complementary because search engine crawlers and assistive technologies like screen readers typically process web pages in a similar fashion. The factors below are just some of the ways in which ADA compliance improves a site's user experience, overall digital accessibility and search rankings.
When establishing your website, a consistent navigation that's easy to follow is ideal for both ADA compliance and SEO purposes. Accessible web design should include straightforward navigation that can be easily followed using a keyboard, and quick webpage load times for people without access to high speed internet. It's also important that visual elements are carefully selected, using high contrast colors so content is legible. A responsive design should also adapt quickly and easily to different screen sizes, and should be optimized for both desktop and mobile users. A good design puts the user first, which not only benefits all customers accessing it, but Google rankings as well. Site load times, proper web page structure and more all impact SEO performance.
Readability refers to how understandable the content on your website is. Generally speaking, a good rule of thumb is to write content in an active voice to ensure that both sighted readers and users with visual impairments can read it or access the information using a screen reader. Sentence length and structure contributes to the readability level of a website. Avoid using run-on sentences, and keep written content clear and concise.
Using title tags, meta title tags, and meta descriptions that describe the content on each page should be a fundamental part of your website's development. The benefits of using these tags are two fold: not only do they help attribute accurate titles for each page on your website, but they also appear in Google search. From an accessibility standpoint, establishing these tags helps screen reader users differentiate between multiple pages. SEO works in a similar way, because it's easier for search engine crawlers to identify and rank content that has clearly titled web pages.
Similar to titles, alternative text (or alt text) is another accessibility guideline that also greatly impacts search engine algorithms. Alt text is a clear, succinct description of visual elements on a webpage or on social media. For example, if your website has a photo of your company's building, the alt text could read, "the exterior of ___ company's building" Essentially, alt text is meant to provide a quick description for both screen readers and search engine crawlers to index. Alt text improves SEO because it increases the amount of keywords on a page.
There are six different heading levels you can use to create information hierarchy and organization on a web page. These levels range from H1 to H6, and each headline should describe the information below it. Each web page should only have one H1 headline, followed by H2 headers for each section, followed by H3 headers and so on. By ensuring your page is properly structured, this will allow users with visual impairments to best determine which sections are relevant to the information they're searching for. From an SEO perspective, this again helps your website's information "score" well on a Google search page, by providing information to the reader directly in search results.
Providing full text transcriptions of the audio, visual and interactive elements on your site helps to not only make your content easily searchable, but also makes it more accessible for those unable to view the original content. While alt text is great for describing photos, providing full text transcripts of video content is another method that makes your content accessible, all while increasing the likelihood of it being picked up by Google. Any video that features people speaking, detailed instructions or other highly visual elements should include a written text transcript. This will allow search engines to more easily process the information, while making it easy for screen reader users to access, as well as people who aren't able to listen to the content with sound.
Not Sure Where to Start? We Can Help
In short, improving your website's ADA compliance and SEO performance is a win-win for your business. To make it happen, you need a qualified team in your corner. We can help you analyze and improve both your website's ADA compliance and SEO performance by helping you develop digital assets everyone can access. Contact us today to get started.